X-Posted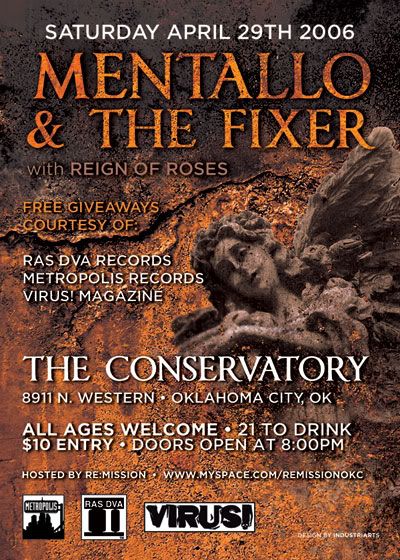 Update: Register to win tickets to see "Mentallo & The Fixer" Live in Oklahoma City
April 29th and a special chance to win a vintage "Mentallo & The Fixer" T-Shirt!

Send Name, age, and Address to: ReMissionOKC@Gmail.com with "Mentallo Contest" in the subject line





Mentallo and the Fixer is the industrial brainchild of two brothers from Texas, Gary and Dwayne Dassing. Mentallo and the Fixer derived its name from a pair of comic book characters whose origins have long since faded into obscurity.The Dassing brothers were raised on rock music, so their first instruments were actually the guitar (Dwayne) and drums (Gary). However, this changed when the pair discovered a number of new wave bands whose music was heavily saturated with synthesizers. Dwayne specifically lists the Cars, early Orchestral Manouevres in the Dark, and especially Gary Numan as strong influences to Mentallo and the Fixer.

Around 1984, the brothers began acquiring synthesizers, discovering the inherent sonic possibilities that these instruments allowed. They began to experiment with these instruments, with recording techniques, and even rudimentary sampling with taped based equipment.

In 1988, the brothers added vocalist Rich Mendez to their roster, and adopted the name Benestrophe. They made two tapes as Benestrophe using only a 12-channel mixer and a $100 stereo TEAC tape deck (incidentally the same equipment used for the first Mentallo release), and surprised even themselves with its sound quality. Much of these tapes are now available on Benestrophe's "Sensory Deprivation" CD and "Auric Fires" (RAS DVA). Benestrophe ended in 1990 when the Dassings moved to another part of the state, and then began their work as Mentallo and the Fixer. A DAT tape of "No Rest for the Wicked" was sent to Portugal's Simbiose Records, and was released on vinyl in a limited edition of 500. (It was re-issued on CD by Metropolis in 1998 as a double CD with additional unreleased tracks and remixes.) A subsequent tape was sent to Talla 2XLC of Zoth Ommog fame, who signed the band to a three-record deal within two weeks.

Though actually their second album, "Revelations 23" was their first proper release, and gained the attention of Metropolis Records, who began their long association with Mentallo and the Fixer with this masterpiece. Like its predecessor, "Revelations 23" was filled with anger: snarling distorted vocals, hard cutting sequencer rhythms, and a thunderous beat. Their next CD, "Where Angels Fear to Tread", displayed considerably less rage than their previous work. The CD showed tremendous musical growth and artistic maturity, being very complex and emotional, with dark Gothic overtones. The CD was met with almost universal acclaim.

In 1994, the Dassings joined forces with vocalist Michael Greene to create the trio Mainesthai, releasing "Out to Lunch" and "Mentallo Meets Mainesthai", which was more melodic and humanistic than Mentallo. Both were released in 1998. 1996 saw Mentallo's first national tour, which was met with rave reviews by both critics and audiences alike. Following this tour, Mentallo and the Fixer began on their next album, "Burnt Beyond Recognition", which was released in 1997. In addition to the album, Gary and Dwayne put together two singles for "Burnt Beyond Recognition", called "Centuries" and "False Prophets".

1999 saw the departure of Dwayne from Mentallo and the Fixer. Gary continued on his own, with the release of the "Systematik Ruin" single and the "Algorythum" full length CD. Gary's vision for this release was different from his previous work, with the incorporation of live drumming, a more experimental approach to electronics, and a more positive outlook on the state of things. Gary quickly returned in 2000 with another Mentallo and the Fixer album, called "Love is the Law" Following in the same vein as the previous release, "Love is the Law" was yet another endeavor into the more experimental and avant-garde style of electronic music. In 2001, Mentallo release "Return To Grimpen Ward", an anthology which featured fourteen re-mixed and re-recorded tracks that spanned over the first ten years of the band's career. That same year, M&TF returned with yet another new studio album, the ominious "Vengeance Is Mine". Heralded as a return to form for Gary Dassing, it fused several elements from all of the previous releases, while at the same time showcasing an artist who was sticking to his guns during a time when dance-oriented club music was all the rave. Shortly after "Vengeance Is Mine" was released, Gary fell just below the radar...but he was not sitting silent. This industrial icon has been slaving away at new Mentallo & The Fixer tracks for the past four years to prepare for his newest sonic achievement: "Enlightenment through a Chemical Catalyst". Teaming up with the up-and-coming Static Sky Records in 2004 (and at last being united on a label with his longtime friends Fektion Fekler!), Gary Dassing would finally return to his long-waiting fans. Expect the unexpected. This is Mentallo & The Fixer...phase two.